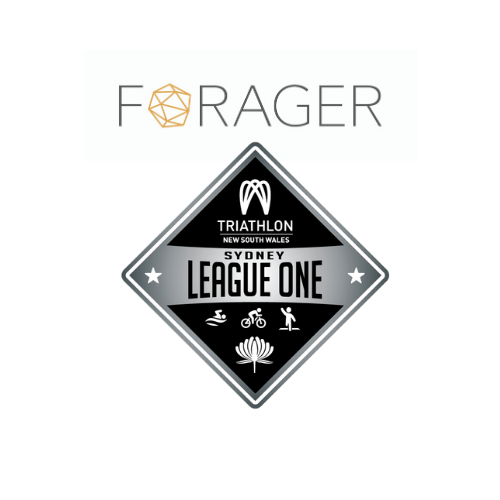 Olson-Keating takes top honours in Forager Sydney Triathlon League 1
Emma Olson-Keating took home her first MVP title in Forager Sydney Triathlon League 1, with a strong return of 6.5 performance points.
The Sydney Triathlon League 1 MVP title is known as the 'Renton Medal' in honour of Gerald Renton of the Balmoral Purple Thunder, who secured the second most Performance Points throughout Sydney in Interclub 01.
Emma, a current Triathlon NSW Emerging Talent Squad member is building a reputation for herself in the sport off the back of one of the strongest run legs going around. At the recent Triathlon NSW Club Champs, Emma's running skills were on display for all to see, taking home the recognition as 'fastest female run leg' across the entire event.
We asked Emma what taking home the 'Renton Medal' meant to her.
"I love triathlon" she was quick to reply "and I work hard to get stronger in training and racing all the time. When I won at the Club Champs in Forster I was excited because it was the longest race I've ever competed in and I was able to help my club, Pulse Performance, gain points for the team competition. Being a small club we needed as many as we could get!'
It's been a superb couple of seasons for the club Emma represents, Pulse Performance, after they took out Forager Sydney Triathlon League 2 last season and were promoted to Forager Sydney League 1 for this season. But the step up in quality opposition was a minor concern, and they just kept on winning – taking out a their second victory in two years.
Heaping praise on the Tri Club she represents,  'Pulse Performance', she acknowledges the best thing about it is that everyone is supportive of each other, and they can push each other to work hard in training. Most importantly, it's the connection with her club mates she cherishes. Next season she's pretty confident that Pulse will keep working hard to race well and further engage with the competition.
On a personal level, 'I plan on learning from the races that I do, so I can develop my race skills for future events'.
What is becoming evident that is that Emma Olson Keating, who took home second female overall in the inaugural Billigence Pathway Championships Series, is a future star of this sport, and one to watch!
It's been a two horse race to see who would win the Coogee Comets MVP – but the eventual victor was Andrew Gibietis who by all measures, has dominated the Mens 30 – 34 division. Andrew secured 5.5 Performance Points across the series, which included Individual NSW State Championships in the Aquathon, Sprint and Standard events. He was closely followed by Loren Lane, also from the Comets, who likewise would be incredibly proud of her results this season, missing out on MVP by only ½ a point.
John Hill took the Bondi Brats MVP title. Those in the know, would be aware of the pedigree and resume that John has amassed over his triathlon career, which has focused on long course events. John has completed over 80 Ironmans finishing 95% in under 10hrs and completed 23 Hawaiian World Championship Ironman's. In case you think that was a mistake – we've written that again so you can take that information in properly.  John has completed over 80 Ironmans finishing 95% in under 10hrs and completed 23 Hawaiian World Championship Ironman's. This honour will sit on his CV along a long list of other successes!
Laurel Rogers and Rachel Kennedy shared the honours for the Engadine dingoes MVP. It's not by chance that both Laurel and Rachel also appear first and second on the Career MVP table for the Dingoes.
Otto Jaeger-Lund has been a constant presence in the sport of Triathlon in NSW since the commencement of the Forager Leagues, three years ago. He has won every Brighton Polar Bears club MVP's and leads the club's career MVP title. There does not appear to be any signs of this brilliant athlete slowing down either – still dominant and still reigning supreme in the Men's 75-79 age group.
The final swan song for the Eastern Suburbs Swans, with this club officially shutting its doors on the 1st July 2021 was a club MVP 'threepeat' for dynamo athlete Claire Crennan. Rumours have circulated that Claire has headed North to train and focus on triathlon, but on the way out, she chipped in two more Performance Points, sharing the honours with Tsumi Smith & Sally Taggart in the Swans MVP for ICL03.
Last but not least, is the Australian Chinese Dragons. In a shock to everyone, Shi Shong flipped the record books and usurped Yanyan Jia who has been the dominate Dragon in the first two iterations of the Interclub Series. But Yanyan failed to go three in a row and Shi Shong won the MVP with ½ a point, cementing this athletes place in the record books.
Join us in congratulating Emma Olson-Keating, the 'Renton Medallist' for Forager Sydney Triathlon League 1 and all club MVP's.
The Sydney Triathlon League 1 MVP – INTERCLUB (nswtriathlonclubseries.com)