Interclub Finishing Positions = 6th (ICL01 – SE Sydney Division) 2nd (ICL02 – Sydney Triathlon League 2) 6th (ICL03 – Sydney Triathlon League 1)
Interclub 01 MVP = Claire Crennan (ICL01) Claire Crennan (ICL02) Claire Crennan, Tsumi Smith & Sally Taggart (ICL03)
Club History 
Eastern Suburbs Triathlon Club is a Sydney-based multi-sport organisation and member of Triathlon NSW. The Club operates as an unbiased community with a diverse base of members ranging from juniors through to members who have been in the sport for over 20 years who choose to train with professionally operated training squads, including Performance By 3, Plus Performance, 4 SeasonsSwim. However, on race day we are all competing for Eastern Suburbs Triathlon Club.
In our brief history we have produced a number of world age group champions and currently have a number of athletes who race internationally at the elite level.
The Eastern Suburbs Swans finished 6th in the first ever Sydney South East Interclub Series and subsequently will compete in the Sydney Triathlon League 2 in Interclub 02.  Claire Crennan was the first ever MVP for the Eastern Suburbs Swans.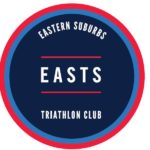 Eastern Suburbs Swans MVP 03