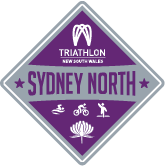 Sydney North Round 3 preview – Rivals hoping Kurnell spells the end of Balmoral's early season dominance
It has been a dream start to the Sydney North Interclub Series for the Balmoral Purple Cobras with back to back resounding victories at both the Sydney Olympic Park Duathlon and the Nepean Triathlon.
Balmoral enter this weekend's race at Kurnell, which is Round 3 on the Sydney North Interclub calendar, with a comfortable 17-point lead over closet rivals, the Warringah Waves.
If Balmoral can continue their fine early season form this Saturday, it will leave both Warringah and the Northern Suburb Mighty Mites with an uphill battle to catch their Northern neighbours and stop them being crowned the inaugural Sydney North Interclub champion.
The Warringah Waves won't be panicking just yet but will hope that Kurnell spells the end of Balmoral's early season grip on the Sydney North competition.
The Northern Suburb Might Mites are in 3rd, 8 points behind Warringah after the opening two rounds. NSTC pushed Warringah all the way at Nepean and will hope to do the same this weekend.
Considerably outnumbered by both Balmoral and Warringah, Northern Suburbs will provide many an upset this season due to their talent and passion. Underestimate them at your peril, Kurnell could very well be their platform to remind Balmoral and Warringah of this as they look to draw themselves back into contention for title glory.

Top 3 questions leading into the Kurnell triathlon?
Can Balmoral take a big step towards a first Sydney North title by winning a third event in a row?
Will Warringah bring an end to the early season Balmoral dominance?
Is this the round that Northern Suburbs outperform their larger neighbours?
Sydney North MVP Race

Balmoral teammates Quentin Schneider and Gerald Renton could push each other all the way this season.
Both are in terrific form and Kurnell will be another chance for the both of them to stake their claim as the Sydney North MVP main contender.
For more information on the Kunrell Triathlon, or to enter, click here