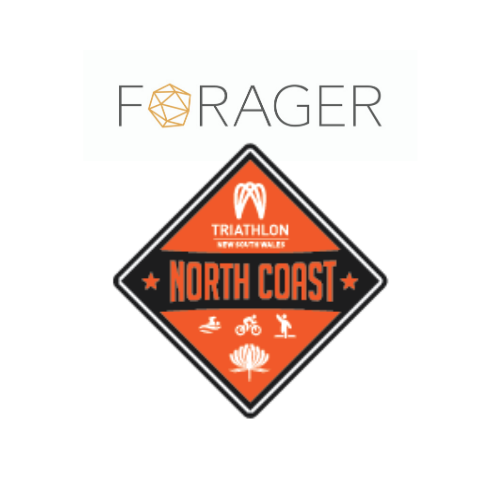 Hammerhead Mcevoy takes home Forager ICL03′ Most Valuable Performer on the North Coast
The MVP individual competition has also wrapped up in the Forager North Coast League, after the Clarence Valley Triathlon Club Stingrays took home the North Coast / Club Champs double.
The Forager North Coast MVP title is known as the 'Elvery Medal' in honour of the first ever winner of the North Coast MVP title, Kim Elvery.
Kim, who is also the Vice President of the Stingrays, has been a dominate force in the region, after taking the regions highest individual accolade in ICL01 and equal victory in ICL02. So the majority of those following and paying attention as this series played out, would have expected that Kim would be the odds on firm favourite to take out her third successive victory. But the form book wasn't read by Hat Head Hammerhead athlete Tina McEvoy,  who took home a whopping 11.5 points and cemented her place in North Coast Triathlon History taking home a courageous victory in the Individual series.
Tina was shocked to learn of her victory, but thrilled all the same. Initially assuming the information of her victory to be 'spam' she lifted her jaw off the ground and told Triathlon NSW "What a surprise…I didn't keep track during the season instead just raced to collect points for the Hammerheads.  Of course an individual win is a boost however I would never have got there without my coach, Andrew Rowling's, my good friend Kathy Cornish who keeps me honest and my wonderful club, Hat Head. They are like family and make training and racing a lot of fun.
I hope to stay injury free for next season and defend my title – but with Kim breathing down my neck it won't be easy! Up, up and beyond".
This herculean effort left Kim Elvery in second place, with an impressive 11 point tally haul equal with fellow Clarence Valley Triathlon Club member and current president, Jason Culton. Both Kim and Jason are the top two points earners for the Stingrays across the first three seasons, with no signs of letting up into the future!
Jennifer Williams regains her title as 'Coffs Harbour Rockets MVP', taking home her second victory across three years.
Inspirational Club President Deb Fuller surprised no one by taking home Byron Tri Club's MVP victory. Her first individual title win, it's been a great year for Deb and the club after they impressed throughout, culminating in a second place overall in the series.
With a strong return of 7.5 individual Performance Points, this puts Deb not only as the winner of the Forager Interclub 03 Byron MVP, but also now the career leading Byron Breaker, with a solid 16 points across the first three seasons.
Louise Dansey took home the Ballina Seahorses MVP for Forager Interclub 03 with 3 Performance Points.
Lastly, Naomi Hooper won the Tweed Valley Volcanoes ICL03 MVP, her first victory, with Chris Goudkamp still leading Career MVP's for the Volcanoes.
Checkout the full leader board: The North Coast Triathlon League MVP – INTERCLUB (nswtriathlonclubseries.com)