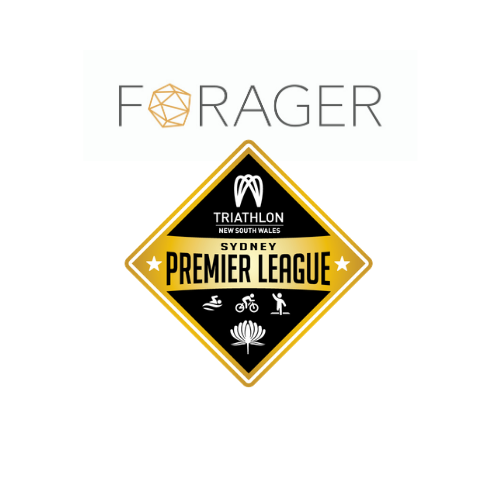 Giants finish in style as they are crowned Premier League Champions
Double points were on offer in Forster at the Triathlon NSW Club Championships as six of the eight 2021 Triathlon NSW Forager Triathlon Leagues came to their nail-biting conclusions.
We begin with the Forager Sydney Triathlon Premier League, where it was the Sydney Tri Giants (STG) who already had one hand on the trophy thanks for a 30.5 point lead over the Hills Red Army heading to Forster but made sure of their Premier League Title with yet another Max Out for the season. Their fourth in seven events.
Clough Snr, Verry, Biles and Douglas were the stars for STG as they all won their respective age groups, aptly supported by a talented contingent which meant that Performance Points were not a rarity.
This rounds out a sensational season for the Eastern Suburbs based outfit who over the past few years have developed into a unit that loves to race regularly whilst possessing a stable of top-class athletes across a broad range of age groups.
Fully deserving of the tag as Sydney's Premier Triathlon Club, STG will be delighted with what they have achieved, especially considering that they possess a much smaller membership than all their main rivals.
It has been coming. For four years now the Club has been guided by Club President, Steve Ellis and Club Coach, Sam Douglas, with the duo working well together to see a competitive improvement season after season.
A Division 3 Club Champs title in Orange came during Year 01 of the Douglas/Ellis era in 2017 followed shortly after by a Sydney South East title during ICL01. A third-place finish in the Sydney Triathlon Premier League in ICL02 turned heads and a Division 2 Club Champs title in late 2020 put everyone on notice.
Their Premier League victory this season, their fifth trophy in four seasons, should not have come as a surprise to those that have been paying attention, but it is yet another chapter in the remarkable story of a Club who has bit by bit moved up the ladder and has finally reached the top.
"To be so consistent over the course of a season,  across a variety of different distances, is extremely hard to do, but is a challenge that the STG athletes have relished. As a Club, we love racing and we love training for these races" Sam Douglas, STG Head Coach. Thoughts echoed by Club President, Steve Ellis. "Sam has done a great job keeping all our athletes engaged and flying. It is fantastic working towards personal goals, but contributing towards team success has really helped shaped the culture of this Club.  We will enjoy this moment but we already can't wait for ICL04 and the chance to go back to back".
Are we about to enter the era of the Giant? Time will tell but one thing is for sure. The Giants will not be happy to slip back into mediocrity without a fight. They will not want to be remembered in five years' time as a flash in the pan at the top level but instead, the Giants will hope to look back on the 2020/2021 season as the year that they first announced themselves to the triathlon community of NSW as a Blue-chip Club. One who is consistently in contention for Premier League honours, season after season.
Whether or not we are entering the Era of the Giant will have a lot to do with the continued resurgence of Warringah Triathlon Club. The Waves, as they go by in the Forager Sydney Triathlon Premier League, have had a stellar season and also Maxed Out at Club Champs in Forster but outscored the Giants 102 to 52, to win the round.
Ketelbey, Ward and Orr all coming out on top in their age groups for the Waves.
The powerhouse that is Warringah have endured a few lean years of late, but they appear to be all but over thanks to a sensational past 18 months.
The Waves were crowned Champions of Sydney Triathlon League 1 during ICL02 and backed that up by winning the rescheduled Club Champs Division 1 in November 2020. Their third trophy in just over 12 months came this past weekend in Forster as they again won Division 1 of the Triathlon NSW Club Champs. A third-place finish overall during this season's edition (ICL03) of the Sydney Triathlon Premier League shows that they have the consistency required over the course of a season to mix it with the best.
It is no coincidence that Warringah's resurgence has coincided with strong leadership and a clear vision. David Wiles is now into his fourth season as Warringah President and has an incredible committee by his side. "As a priority we have put people's well-being first, the physical and mental benefits of exercise and belonging to a community club are significant". The Club runs six training sessions a week that are free to all members as well as conducting triathlons at North Head in Manly as well as Time Trials in conjunction with Manly Warringah Cycling Club. Both are planned and executed to the highest of qualities. ICL04 is all set to be another big season for Warringah. "What we have planned is another season of top quality Club Triathlons and Times Trials. We are already also thinking about Club Champs in 2022!".
All signs point to a Giants V Waves showdown next year during ICL04 for the Premier League title. If the Waves come out on top, it will cap off a wonderful return to prominence for Warringah and once again, as they so often have over the past three decades, the Manly based club will have earned the right to call themselves the best club in Sydney.
Talk of a Giants V Waves battle during ICL04 for the Premier League title is to be unfairly dismissive of the challenge that the Hills Red Army continue to pose. Especially, as they managed to drop just 2 points to the Giants and Waves at Club Champs, finishing with a superb 48 point return.
It is incredible to think that finishing runner-up in the 2020 and the 2021 Division 1 Triathlon NSW Club Championships and the Forager Sydney Triathlon Premier League for ICL03 constitutes as a disappointing season, but that is the bar that Hills have set for themselves.
Imperious in recent seasons, Hills have won all that stands before them with a threepeat of Division 1 Club Champs titles, a Sydney South West Interclub Championship in ICL01, followed by securing the Sydney Triathlon Premier League title last season (ICL02).
But they have now fallen short in their quest for more silverware during their last three opportunities.
It would be extremely premature to disregard their chances to bounce back next season, but it seems that the Red Army will enter ICL04 in an unfamiliar role of late. The outsider.
Just 32.5 points separated Hills from STG overall this season, but recent history would have the Red Army trending down as the Giants and Warringah continue to trend in a seemingly upward trajectory.
The Cronulla Sharks had their quietest Club Champs outing in recent history but still did enough to finish fifth in Forster, earning them fourth spot on the ladder overall in the Forager Sydney Triathlon Premier League for ICL03. A step back from the runner up spot last season.
It was a solid enough achievement but another season in which the Shire based club leaves empty handed. Just as it seemed that Cronulla would pounce on a Hills fall, returning glory years to South Sydney, Warringah and STG made their moves.
The Sharks once again finished the season strongly but left themselves too big of a gap to make up in order to provide any serious threat to the top 3 owing to yet another slow start to the season.
If the Sharks want to contend for the Premier League title next year, they will need to come out of the gate much quicker than they have over the past few seasons. They have the numbers and the talent to be in the mix during ICL04 but might need STG and Warringah to cool off if they are to pose a serious threat.
Balmoral continued their love affair with Club Champs as they finished fourth in Forster to claim fifth position overall on the Premier League ladder for ICL03. Just 2.5 points behind Cronulla in fourth.
It was another strong season for Balmoral as they maintain their position as one of the strongest Clubs in Sydney.
Again, just like Cronulla, Balmoral possess all the ingredients of a Premier League Champion, a strong start to ICL04 could give them the momentum that they would require to trouble the tri of STG, Warringah and Hills.
Concord secured 23 points in Forster to finish sixth with Balance just one point behind on 22 to finish seventh. Fitting, as this is where both Clubs also finished overall in the Forager Sydney Premier League this season.
Concord should be delighted with sixth overall in their first season in the Premier League after promotion last season with many thinking that would be certainties for relegation.
The Inner-West outfit raced hard, from Round 1 right the way through to Club Champs in Forster and have the makings of a perennial Premier League participant.
For Balance Bolt, it was seventh overall. They would have been hoping for higher but had many bright moments throughout the season. The young core of athletes now has another season of experience under their belts and ICL04 is more likely to be a breakthrough year for the Club then a step back.
For Panthers and Macarthur, it is relegation to Sydney Triathlon League 1 for ICL04.
Panthers finished eight in Forster with 19 points, Macarthur ninth with 13 points.
Carlin and Footit in outstanding form for the Penrith based club as they both won their age groups, whilst for Macarthur it was Lake picking up some well-deserved Performance Points for the club.
Dropping down to League 1 gives both Clubs the chance to reset, recharge and challenge for some silverware. Both will start ICL04 as favourites to bounce back to the Premier League at the first attempt.
Forager Sydney Triathlon Premier League (ICL03)