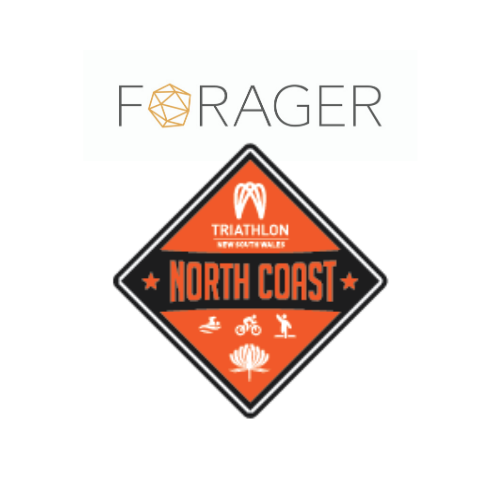 Clarence Valley take an early lead at Kingscliff
Round 1 of the Forager North Coast Triathlon League is in the books thanks to yet another great event conducted by NX Sports.
Kingscliff and its beautiful surrounds played host in a slightly smaller title race this season, with the Port Macquarie Pelicans making the decision to compete in the Forager Greater Hunter Triathlon League due to proximity reasons.
This leaves six. ICL02 champs, the Byron Bay Breakers. ICL01 champs, the Coffs Harbour Rockets. The Clarence Valley Stingrays, the Ballina Seahorses, the Hat Head Hammerheads and the Tweed Valley Volcanoes.
Round 1 belonged to the Stingrays as Clarence Valley, hot off their Club Champs Division 4 victory at Forster, roared to 24 out of a possible 25 points to ensure an early season lead.
Fischer, Culton and Elvery each securing 2 Performance Points each with their age group victories.
Hot on their heels were the reigning champs, the Byron Breakers.
The were no shortage of podium getter for the Byron based club with five of the Breakers finishing in the top 3 of their age groups. Skillen, Hanninen, Fuller, Jones and Clarke.
Byron will be delighted with he 20 points they secured, a second on the day and an early season result that shows they will once again be in the mix for title honours.
Coffs Harbour finished third on 13.5 points and stay within touching distance of the top two.
Darlow the star for the Rockets with an age group victory and 2 well-earned Performance Points for the Rockets total.
The Hat Head Hammerheads were 4th in Kingscliff on 11.5 points which keeps them in the hunt for a maiden North Coast title.
A second placed finish for McEvoy was the performance of the day for the Hat Head club.
Tweed Valley returned their best ever point total from an Interclub event as they headed home with 10.5 points.
Goudkamp the top performer for the Volcanoes with a third-place finish in his age group.
The Ballina Seahorses didn't leave empty handed as they picked up 4 points to finish sixth.
Gasbarrone and Wickham picking up the Performance Points for Ballina.
Round 2 is fast approaching. Yamba Triathlon will further shake up the pack and show who the real contenders are.