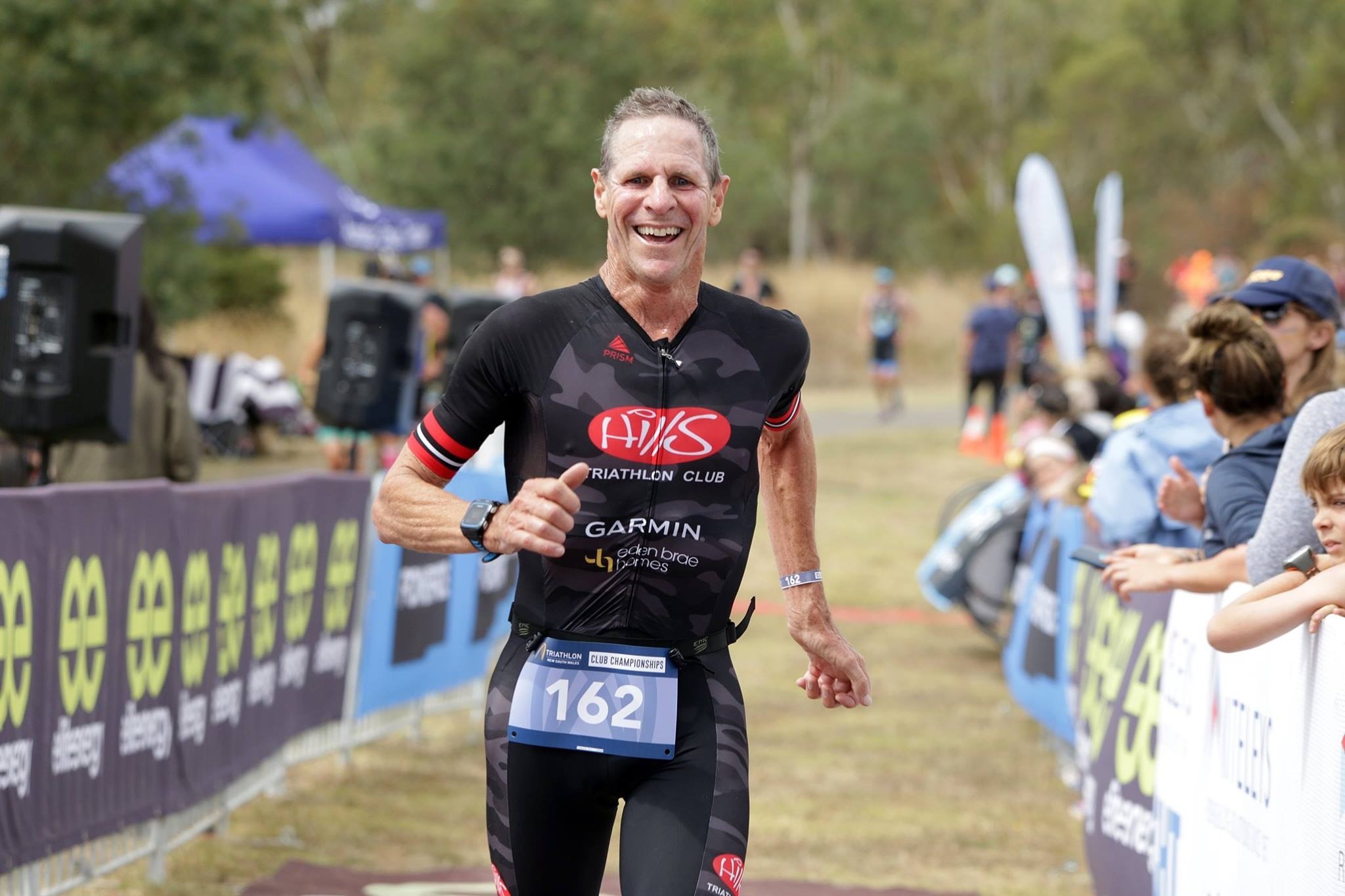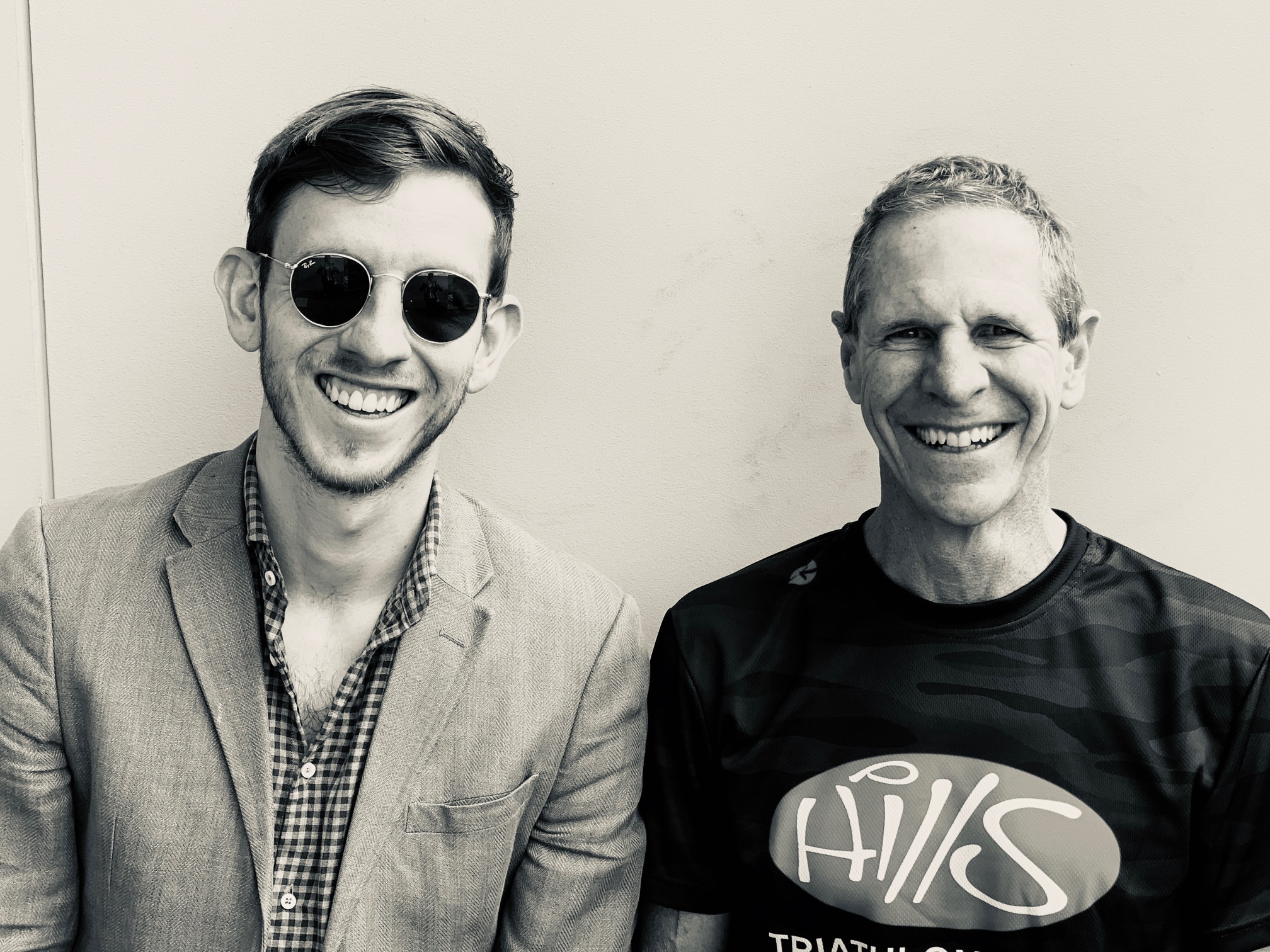 A knock. Door opens.
First through is his smile. A permanent fixture along with his wallet and his keys. He never leaves home without it. Next, the man himself.
Dave McEwan.
A man on a mission. The Wollongong Triathlon is just two days away and Dave is hoping to bring his incredible season to an end on yet another high.
It all started back in July at the Hills Triathlon Club Duathlon. Dave was keeping race sharp for World Champs in September. He won his age group comfortably. He also picked up points for himself and his beloved Hills Red Army in the process.
"I didn't know anything about the Interclub competition before the event, but after when I heard that Hills had won the 1st event of the season and were on top of the ladder, I began to take an interest. I love any chance I get to represent my club and to be a part of something bigger than myself. The Interclub sounded like a great addition to the season"
Next up was the Gold Coast in September. Sprint distance.
A World Champs on home soil and the chance to make amends for 12 months earlier when Dave missed out on a medal in Rotterdam after losing precious time when he tried to leave transition for the run with his helmet still on.
A rookie error that he laughs about of course.
"I just love to compete. I never take it for granted"
Hooked
Dave's route to Triathlon is not uncommon.
He found it later in life after moving across form Cross Country and Track running which in itself was a late addition, having only started competing in his 40's. Mowing the lawn was his sport of choice for most of his life.
A member of Hills District Athletic Club, Dave only found Triathlon after breaking his ankle whilst trying to qualify for the Sixfoot Track Marathon.
After the accident, a colleague of Dave's whilst he was Deputy Principle at Cabramatta School, suggested that he take up cycling in Paramatta Park as it was much safer.
He did.
This led to Dave's first encounter with Hills Tri Club as they were mid brick session when Dave first cycled around the Park.
He joined in as cycling in the cold and alone wasn't doing it for him.
"After the first session I was hooked. I learnt so much and enjoyed the support that I received. I didn't even realise that my seat was 5 cm's too low before the coach pointed it out. The first of many helpful tips to come my way. I felt a part of something special straight away"
He continued with the brick sessions and after 6 months, he had his first crack at an event. A Hills Triathlon Club Duathlon. He won of course. His running background and lack of swimming talent made Dave a handy Duathlon competitor.
He did a few more Duathlons whilst he spent time in the pool working on his swim leg at stroke correction lessons, then, when he was comfortable, he took part in his first Hills Triathlon Club Triathlon event.
"I was completely in love with the sport. Each race I would improve, there was so much variation and the club had such a great atmosphere. Rivals became teammates, teammates became friends"
Before Dave could venture outside of his beloved Hills Triathlon Club events, cancer intervened.
"I was out for a whole year. I stayed a part of the club and would go and volunteer at the Club Brick sessions on the weekend. They were a great support for me. My competitive spirit never left me, I remember creating a 25 meter circuit around my house that I would walk around whilst I timed myself. Each day I would try and improve on my time"
During this time, Dave inspired many at Hills with his fighting spirit which saw him awarded the Club Spirit of the Year Award. To this day, his most touching achievement in the sport.
His crowning achievement was on the Gold Coast in September 2018 when Dave made amends for Rotterdam as he left with a Bronze Medal around his neck.
The MVP Race
Dave decided to put his World Champs fitness and form to good use and entered the Nepean Triathlon, in late October.
His second home, the Sydney International Regatta Centre, played host to his second Age Group victory of the season.
Again, Dave was awarded points for himself and for the Hills Red Army in the process.
"Nepean is such a great event but adding club importance to established events added a little extra something for me. Then our Club President told me about the MVP standings and that I was on top. Very quickly I decided that I was all in"
The new Interlcub Competitions not only rewarded and recognised clubs for their members participation and performance, it also rewarded and recognised individuals for their performance.
Athletes are awarded 2 points for an Age Group victory, 1.5 points for 2nd or 3rd, 1 point for 4th or 5th and 0.5 points for 6th down to 10th.
Whoever collects the most points during the season within a club or across a region, is crowned MVP. Most Valuable Performer. Each Region Interclub Competition will crown an MVP at the end of each season, as will each club.
Armed with his info, Dave quickly formulated a plan for the rest of the season.
Kurnell #1 was next up. Another Age Group victory was achieved. Two more points for himself and more points towards Hills' tally.
He won again at his home club race, the Hills Garmin Series in Round 4 as Hills began to open a lead in the Sydney South West and Dave was flying on top of the Sydney South West MVP ladder.
Horrendous weather intervened during Round 5 which saw the Panthers Triathlon Club race forced into mid race abandonment.
Kurnell #2 in the New Year brought about a 2nd place for Dave. Edged out by Age Group rival John Hill, but still precious points for Hills and himself were secured.
"One of my favourite things about Tri is the friendly rivalries that occur. John Hill is fantastic, I love the challenge of trying to chase him down. Kevin Goodwin is another in my Age Group who I have come to know through our tussles"
The New
The Interclub journey for Dave opened new doors.
New race venues.
The Richie Walker Aquathlon, was one. A race conducted by Cronulla Triathlon Club to honour the life of former club member Richie Walker.
A unique event jam packed with club spirit in the terrific venue of Gunnamatta Park.
"I had never done an Aquathlon before and wouldn't have if it wasn't for the Interclub. What a great event it was. Fantastic place to swim and a hard run but it had such a great vibe. Spectators can stand in the middle of the park and watch the whole race unfold. I will do it again next year for sure".
Dave was back to winning ways down in the Shire, extending his lead in the MVP race for the Sydney South West Interclub. Cronulla made it two wins in a row for themselves however and were beginning to eat into Hills' lead.
It wasn't just new venues for Dave that the Interclub unlocked, there were new distances as well.
Long Course. Big Husky to be exact.
"I'd never really considered Long Course before I checked the events for the Interclub Calendar. I'd never had the motivation to do one previously. But I thought to myself, why not? The worst that can happen is I battle through but earn some points for Hills at the same time"
Nervous excitement before. Delight after.
Dave loved the new challenge and who wouldn't when you run a 1.41 half marathon off the bike in your first attempt. Second place to John Hill again. Greatness needs rivals to push them to further greatness.
More points for Hills and more points for himself. Hills were edging closer to the title and Dave was edging closer to the MVP title.
Club Pride
Orange.
The scene of one of Dave's fondest memories as a triathlete was once again playing host to the Triathlon NSW Club Championships, which was also Round 9 on the Interclub Calendar for the Sydney South West. Double points were on offer.
"Orange is a special place. We won our first Club Champs title there which I was immensely proud to be a part of"
Hills held a healthy lead, but Cronulla weren't going down without a fight.
Dave also held a healthy lead in the MVP race for the region but there was plenty of competition.
Rachel Eagles and Craig Odewahn of Macarthur. Paul Fisher, a Hills Red Army teammate. Aimee Carlin of Panthers and Jocie Evison of Balance.
All were enjoying similarly superb seasons meaning Dave couldn't take a round off, especially with double points on the line.
It was all set for a huge Saturday in the Central West.
Dave drove back through the Blue Mountains a very happy man.
Hills made it three Club Champs titles in a row and two consecutive Junior Club Champs titles. They also wrapped up the inaugural Sydney South West Interclub title with a Round to spare.
Dave, well, Dave won his Age Group again. The MVP title was his.
"Hills are a family. There is nothing better than to race for each other. To spur each other on. To celebrate everyone who contributed to the club's success"
Reward and Recognition
With Interclub 01 in the books for all but one of the regions, we can begin to reflect and review.
Reward and recognition were the key words behind the introduction of the new Interclub Competitions.
Reward and recognise Clubs and Athletes alike for their participation and performance.
The highest reward for athletes within the Interclub is to be crowned Region MVP.
Most Valuable Performer.
A title that will grow in prestige as more seasons become etched in history.
Each region unearthed an MVP this season.
Rewarding and recognising their monumental efforts throughout the year.
Dave McEwan was the MVP of the Sydney South West.
He also accumulated the most points throughout all of NSW.
Something tells me he will give it a red-hot crack again next season.
In the South, the MVP race was a particularly hot topic in one household as wife Angela held off husband, Geoff, by just one point.
In the South East, Cathy Verry edged out STG teammate Daniel X James by just one point to be crowned MVP of that region.
For Sydney North, Gerald Renton of Balmoral reigned supreme.
A shortened New England Series saw a tie between two Armidale athletes, Heather Nonhebel and Jaqueline King.
The North Coast is yet to be wrapped up and will go down to the wire at the last event of the season in Byron.
Darren Adams of Clarence Valley currently holds a one-point lead over teammate Kim Elvery and Port Mac Pelican, Margaret Lawn.
All great athletes with their own stories that have led them to this point.
All now connected by being crowned the first MVP's for their region.
Immortalised
To further reward and recognise the inaugural MVP's, Triathlon NSW will be naming the MVP titles after them.
The South Coast MVP title will be known as the Besnard Medal from Interclub 02 onward.
The New England MVP title will become the Nonhebel-King Medal.
The North Coast will be decided at Byron but is likely to be either the Adams Medal, the Elvery Medal or the Lawn Medal.
For Sydney, it is all change.
The Regions have been combined and three leagues have been created featuring all 21 clubs. Promotion and relegation will be introduced to allow clubs to move up or down based on their performance.
The Sydney Triathlon Premier League MVP will be known as the McEwan Medal as Dave McEwan compiled the most points of all Sydney MVP athletes.
The Sydney Triathlon League 1 MVP will be known as the Renton Medal as Gerald Renton compiled the second most points of all Sydney MVP athletes.
The Sydney Triathlon League 2 MVP will be known as the Verry Medal as Cathy Verry compiled the third most points of all Sydney MVP athletes.
The Besnard Medal. The Nonhebel-King Medal. The McEwan Medal. The Renton Medal. The Verry Medal.
Honouring all the inaugural winners. Now immortalised in Triathlon NSW history.
…
For those still wondering, Dave also won in Wollongong!