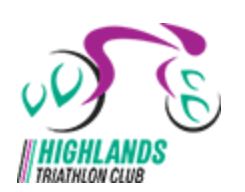 Highlands Triathlon Club
"As a new club, we are very excited for the upcoming interclub series and feel it will be the perfect opportunity to develop our club. As a fledgling club we are still in the process of growing and fostering club spirit and camaderie. We got a hint of how great our club support is at the recent Ironman Australia weekend, and as a result we are looking forward to the same experience at the local races that make up the interclub race series. We do believe that the key to a successful club will be a strong junior component, and as a result we hope to bring a strong contingent of junior athletes to the race series. While we may not be the biggest club in the series, we will be competitive and enthusiastic. Keep an eye out for our Shaggy Cow supporters at each event!" (Barry Smith, President) 
The Highlands Triathlon Club was established in 2017 in an attempt to provide a local club for the growing number of triathletes in the Southern Highlands. The previous triathlon club in the area shut down in 2003, and despite several attempts to reform, it was not until 2017 that there was enough interest for a club to be sustainable.
The vision of HTC is to provide a club that is open to all Highlanders that are interested in triathlon and multisport. Through our club we hope to achieve the following;
provide an opportunity for keen triathletes and beginner triathletes to grow and develop in the sport
encourage local juniors and school students to experience the thrill of multisport racing,
provide coaching and support for all level of athletes including pathways for talented juniors to develop in the sport;
provide a club environment for Highlanders all ages and all experience levels,
The Highlands Triathlon Club has adopted the Shaggy Cow as its logo – a natural icon for a triathlon team as Shaggy Cows are well known for their speed and athletic ability!
In their first year (2017/18) HTC had 26 financial members, with their goal for the 2018/19 season to reach a target of 50 committed members. Their focus in 2018/19 will be to attract and grow their local juniors.
HTC holds a club Aquathlon series of races at Bowral pool on a Friday night in Spring/Summer, which are a great way for potential members to try out a multisport event and get to know the club.
Shaggy Cows season preview Q&A
Who is your club coach?
Our star athlete is Scott Connolly, racing in the 30-34 age group, who is also our club coach and an enthusiastic supporter of all things triathlon. He has completed 11 Ironman races, including Hawaii in 2017 and a 3rd place age group at Ironman Australia in 2018. The interclub races will be a bit short for him, but we are hoping he can bring his experience and competitiveness to this inaugural event and lead our club to great things this year.
Rookie to watch?
Our 'rookies to watch' are Georgia Hampshire and Oliver Hampshire, both with exceptional running and swimming talent. We are looking forward to seeing what they can do with their talent over the coming years as HTC representatives.
Club ambassador?
Our 'Club Ambassador' is Scott Inman, who is involved in anything and everything that involves HTC, and is one of the main reasons the club has been able to develop so quickly after only 12 months.  He is our most enthusiastic club supporter and promoter, typified by the fact he was our sole club representative at the Club Champs at Orange.
Club to watch?
We are looking forward to competing against the other clubs. The natural choice for who will dominate is Illawarra, due to their size and dominance. However it is also evident that Kiama has some depth given their results at Club Champs.  Shellharbour also have a lot of talent and will be well represented and competitive.
Event most looking forward to?
The Berry Duathlon is the event we are most looking forward to, as it is a new event in a fantastic location. And who doesn't love an event with no swim!
How to connect with Highlands Triathlon Club
Highlands Triathlon Club Facebook – Click here
HIghlands Shaggy Cows MVP