Interclub Finishing Positions = 3rd (ICL01) 5th (ICL02) 6th (ICL03)
Interclub MVPs = Thomas Jennings/Liam Hinchcliffe (ICL01) Liam Hinchcliffe (ICL02) Matthew Smith (ICL03)
Club History
The Highlands Triathlon Club was established in 2017 in an attempt to provide a local club for the growing number of triathletes in the Southern Highlands. The previous triathlon club in the area shut down in 2003, and despite several attempts to reform, it was not until 2017 that there was enough interest for a club to be sustainable.
The vision of HTC is to provide a club that is open to all Highlanders that are interested in triathlon and multisport. Through our club we hope to achieve the following;
provide an opportunity for keen triathletes and beginner triathletes to grow and develop in the sport
encourage local juniors and school students to experience the thrill of multisport racing,
provide coaching and support for all level of athletes including pathways for talented juniors to develop in the sport;
provide a club environment for Highlanders all ages and all experience levels,
The Highlands Shaggy Cows finished third in the first ever South Coast Interclub Series. Geoff Luscombe was the first ever MVP for the Hawkesbury Hawks. Liam Hinchcliffe and Thomas Jennings share the inaugural MVP title.
The Shaggy Cows took a backward step in ICL02 to finish fifth. Liam Hinchcliffe secured his second Club MVP title.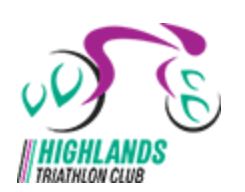 HIghlands Shaggy Cows MVP 03
South Coast Standings - Interclub 02