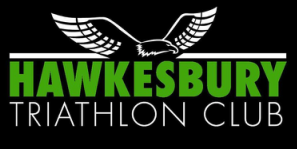 Hawkesbury Triathlon Club
"As club president, I feel that this initiative by Tri NSW brings an exciting dimension to the sport that has been missing. That is, a competition between the Sydney clubs within already organised events – interclub rivalry! Additionally, it gives us all an opportunity to compete across a variety of events and locations." (Chris Barclay, President)
About the Club / History
The Hawkesbury Triathlon Club was formed back in 2002. Hawkesbury Triathlon Club is a small group of dedicated individuals who train and compete in the Hawkesbury area. The club culture is all about having fun, with a bit of exercise also.
Training Sessions Offered
The Club offers a range of training options with formal and informal coaching, social training.  Training is offered for juniors as well as adults at all levels.
For more information click here.
Hawks Series Preview Q&A
Club Coach? Many of us are coached by Greg Douglas
Club ambassador? Craig Burley – ever trying, never give up attitude…
Club to watch? Hills – broad cross-section of athletes.
Event you are most looking forward to on the Calendar? First event – The Hills Duathlon
How to connect with the Hawkesbury Triathlon Club