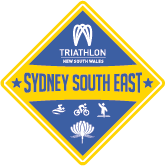 Sydney South East Round 3 Preview – Kurnell to shake things up
Kurnell is the setting for what is set to be a thrilling Round 3 of the Sydney South East Interclub. 5.5 points separate the top four but come the end of the race on Saturday, we should be a bit closer to knowing who the club to beat in the South East is.
It is the Sydney Tri Giants who head to Kurnell with targets on their back after a great performance at the Nepean Triathlon.  After a quiet start at the Sydney Olympic Park Duathlon, the Giants surged up the leaderboard to find themselves on top after Round 2. Spirits are high in the Giant camp and they look set to have another strong outing at Kurnell.
The Australian Chinese Dragons sit second, just half a point behind the Giants. In their first full season as a Triathlon Club, the Dragons are impressing a lot of people with how they've started the Interclub Series.
Kurnell is a happy hunting ground for the Coogee Comets and this Saturday should be no different. Well placed after two rounds, it wouldn't be a huge surprise if Coogee were on top after this Saturday.
Leaders after Round 1, the Eastern Suburb Swans, slipped to fourth on the leaderboard after Nepean but will hope to bounce back this weekend at Kurnell. Blessed with plenty of talented athletes, they could very well be the big movers of the round.
The Bondi BRATS had an encouraging result at Nepean and will look to back that up at Kurnell. They find themselves seven points off 4th place and will not want to fall any further behind at this early stage. Like a lot of the clubs in the Sydney South East region, Kurnell feels like home to the BRATS and they will have high hopes for this weekend.
Just behind their Bondi neighbours are the T4 North Bondi Tritans. They will be hoping for a strong round to stay in touch with BRATS in the battle for Bondi supremacy.
Brighton Polar Bears find themselves in 7th, yet to feature so far this season but we are likely to see them this weekend.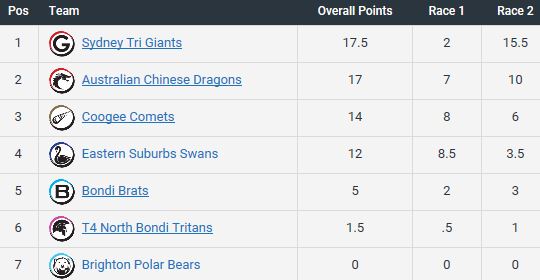 Top 3 questions leading into Kurnell #1?
Will the Sydney Tri Giants be able to repeat their impressive Nepean performance this weekend to open a gap at the top?
Will this be the round where the Bondi BRATS make their move?
With a 2nd at the Sydney Olympic Duathlon and a 3rd at Nepean, can Coogee win their first event of the season?
Race for the Sydney South East MVP

It is a Comet one-two so far, with Loren Lane leading the way, followed closely by club mate, Charles Leggett.
It is very early days but congratulations to Loren Lane for her early season form.
For more information regarding Kunrell #1 or to enter, click here