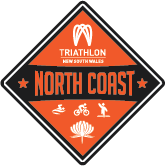 North Coast in the balance with bcu Coffs Tri up next
Five events down, two to go.
The North Coast Interclub is all set for a thrilling penultimate instalment this coming weekend at the bcu Coffs Tri.
The Hat Head Hammerheads are the current Series leaders, but all five chasing teams are right on their shoulder.
None more so than the Clarence Valley Stingrays in second. They are just 6 points behind and will want to take back control of the Interclub Series after a quiet round last time out at the Tweed Enduro.
The hometown favourites are in third position. The Coffs Harbour Rockets have been solid all year and will look to take advantage of familiar surroundings to close the 10 point gap to the Hammerheads.
Having led the Series for a long time, the Ballina Seahorses find themselves fourth overall heading to Coffs. Just 11.5 point behind, the Seahorses should perform well and move right back into title contention.
Byron find themselves 5th and will want a good return from Coffs to ensure that they head into the final round on home soil in reach of top spot.
Port are on the bottom of the ladder but are the form team over the last two events, a third successful event in a row  could lead to a final round showdown in which Port could pull off one of the great comebacks in sport.

Top 3 questions heading into the bcu Coffs Tri
Can the new kids on the block, the Hat Head Hammerheads hold on to top spot?
2. Can Byron earn enough points to keep themselves in the running before their home event?
3. Can Port maintain their form to drag themselves back into title contention?
For more information about the bcu Coffs TRI, or to enter, click here