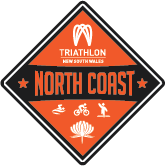 North Coast Round 2 Preview – All to play for at the Yamba Triathlon
Our attention on the North Coast turns to Yamba and round 2 of the North Coast Interclub Series.
The idyllic setting that is Yamba is sure to generate a fantastic spectacle for our clubs and athletes of the North Coast.
Round 1 in August was at the Ballina Triathlon and the hometown heroes took full advantage. The Ballina Seahorses walked away with 24.5 points on the day out of a possible 25 to open a healthy lead on the overall leaderboard.
In a surprise to many, it was the Hat Head Hammerheads in their debut event finished second. It will be interesting to see if Hat Head can repeat that performance again, this time in Yamba.
The Hammerheads just pipped the Byron Breakers, also on debut and the Coffs Harbour Rockets who tied for third.
Byron were delighted with their first return of the season and should perform well again at Yamba. As should the Rockets who are one of the firm favourites to be near the top of the table when the season draws to a close.
The Clarence Valley Stingrays finished 5th in Ballina but are just two points behind 2nd.  With hometown advantage for Round 2, we fully expect the Stingrays to jump up the leaderboard and announce themselves as a main contender for the North Coast title.
The Port Macquarie Pelicans didn't feature at Ballina but should make up for lost time in Yamba with a strong stable of athletes assembled for the trip North.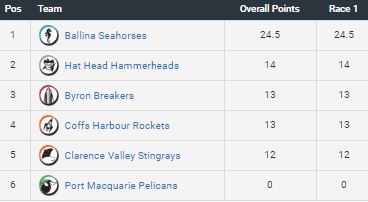 Top 3 questions leading into the Yamba triathlon?
Will the Ballina Seahorses perform as well on the road as they did at home to keep hold of top spot?
Can the Clarence Valley Stingrays take full advantage of a race in their own backyard?
Can the Port Macquarie Pelicans jump back into contention with a strong showing?
Race for the North Coast MVP

Very early days in the North Coast MVP race, but a strong showing at this early stage could make all the difference.
For more information regarding the Yamba Triathlon or to enter, click here