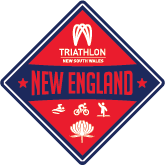 New England Interclub up and running
The Trial Bay Triathlon played host to the first ever New England Interclub Series event.
Year 01 of the New England Interclub will be a brief affair with just two events on the calendar, with hopes of expanding it to a minimum of four next season.
It was the Tamworth Tigers who struck first, narrowly edging out the Armidale Armidillos this past weekend.
Victories for Jess McDonald and Joey Sullivan got the Tigers off to a dream start with podiums from David Hathway and Daniel Nash providing further Performance Points to the cause. Michael Farrow, Gregory Hurcum and Kath Little also adding to the total with top 10's.
Armidale find themselves just 2 points adrift of the Tigers heading into bcu Coffs.
Phil Hess and Heather Nonhebel notching victories for the Armidillos. Hayden Freeman and Jacqueline King raced to 3rd placed finishes, with Paul Billings, Christopher Pears and Robert Herd managing top 10's.
Inverell were unfortunately a late scratching from the event but will hope to feature heavily at bcu Coffs, as will Moree and Gunnedah.

Looking ahead to Round 2
Round 2 will occur at bcu Coffs on March 3rd.
It looks set to be a shootout between the Armidale Armidillos and the Tamworth Tigers for the title.
Full details can be found here