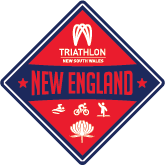 New England finale set for Coffs
The bcu Coffs Tri this coming weekend will see the conclusion of the brief debut of the New England Interclub Series.
Round 1 in Trial Bay was a two team affair, with the Tamworth Tigers narrowly edging out the Armidale Armidillos.
One of these two clubs will more than likely be crowned the New England Champion for Year 01.
A spot on the podium is still up for grabs, with the Gunnedah K-Bears, Inverell Sapphires and Moree Mongooses hoping to make a splash.
It is exciting times in the New England region with Year 02 of the Interclub Series in the region hoping to include several more races.
It is all set to be a great day of racing.

For more information about the bcu Coffs TRI, or to enter, click here