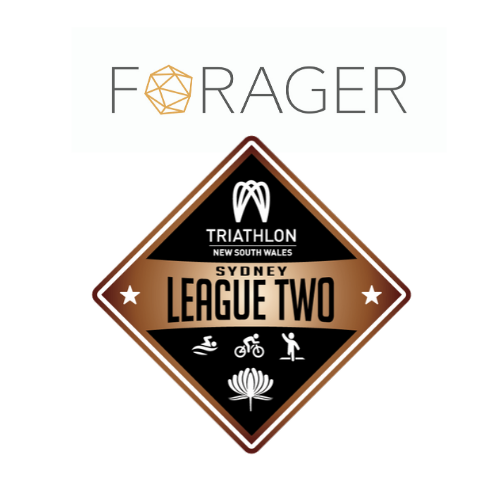 Forager Sydney Triathlon League 2 – ICL03 Preview
The Forager Sydney Triathlon League 2 calendar will feature ten events in ICL03, starting and finishing with a Club Champs in what promises to be a fascinating edition.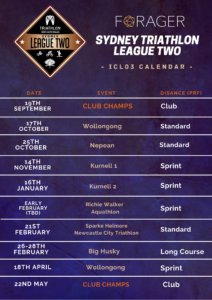 Last season Rozelle Pulse surprised everyone by dominating the competition from start to finish, securing promotion to Sydney Triathlon League 1 and the Sydney Triathlon League 2 title in the process. The Eastern Suburbs Swans joined Pulse in gaining promotion by finishing runners up. The Swans put together another strong campaign and should impress again this season in League 1.
There is just the one promotion spot on offer this season for Forager Sydney Triathlon League 2 clubs in a bid from Triathlon NSW to re-balance the Sydney league structure after Covid meant that last seasons competition ended with no relegation, however, promotions were still honoured leading to an unbalanced competition structure.
It will be the Northern Suburbs Mighty Mites who start as favourites to secure that one promotion spot up for grabs this season, after just missing out on promotion last season. The Mighty Mites came on leaps and bounds last season and look reenergised under Helen Kennedy. The Northern Suburbs will take some stopping.
It is hard to separate the other four clubs involved but one of the LAPD Lightning, T4 North Bondi Tritans, Lion Island Lions and Western Sydney FilOz Eagles will surely emerge as a contender and push Northern Suburbs all the way.
The LAPD Lightning look set to rebound this season so maybe it could very well be the western suburbs club who takes the charge to the Mighty Mites.
Round 1 is the rescheduled Club Champs event from last season. It is a a double point round in Forster on September 19th and any clubs with serious aspirations for the season ahead can use this a springboard to kick start the season with a bang.
Round 2 is another rescheduled event, with the Wollongong Triathlon set for October 17th, quickly followed by Round 3 and the Nepean triathlon just a week later. Watch out for both the LAPD Lightning and Western Sydney FilOz Eagles to make their moves at Nepean.
Round 4 will be Kurnell #1 on November 14th. The T4 North Bondi Tritans perform well at Kurnell so this could be their round. As could be Round 5 as it is back to Kurnell for K2 in early January.
Round 6 is the Richie Walker Aquathlon at Gunnamatta Bay in Cronulla in early February before we head North to Newcastle for Round 7 at the Sparke Helmore Triathlon.
Round 8 is the festival of all triathlon festivals. The Big Husky Triathlon festival. The Long Course distance is the Performance Points earning race. The Western Sydney FilOz Eagles usually flock to Husky in bug numbers so this is another chance for an event victory for them.
Round 9 is the penultimate round in Wollongong on April 18th. This provides one last chance for the clubs put themselves in a position of glory ahead of the final round and double points again at Club Champs in Forster.
Round 10. The final round. Club Champs, Forster, 22nd May 2021. Double points up for grabs. We will have a good idea of how the final standings will look but nothing is likely to be guaranteed before this event. Will we the Northern Suburbs Mighty Mites be crowned Forager Sydney Triathlon League 2 Champions in Forster? Will a dark horse have emerged to sweep past the favourites, Lion Island Lions maybe or a reenergised LAPD Lighting? All questions will be answered at Club Champs in 2021.