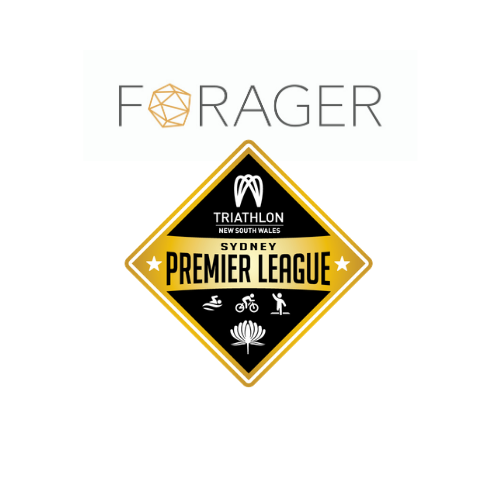 Forager Sydney Triathlon Premier League – ICL03 Preview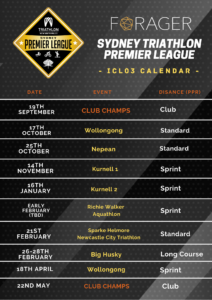 The Forager Sydney Triathlon Premier League is all set for a bumper edition in ICL03. With no relegation last season due to a Covid enforced early ending and a calendar that features two rescheduled events, this season, nine clubs will do battle over 10 events to crown a Premier League champion. There will also be plenty of action at the other end of the table with three clubs set to be relegated this season.
A Covid and weather impacted ICL02 saw the Hills Red Army add yet another trophy to their ever-growing cabinet as they were crowned the inaugural SPTL champions, adding to their Sydney South West Championship the season before. They led the way from the very first event and held off both the Cronulla Sharks and Sydney Tri Giants to maintain their position as the premier triathlon club of Sydney.
This season will see the Red Army enter as favourites once again with the Sharks and Giants looking set to be their main contenders.
Keep an eye out for the Balmoral Purple Thunder though who started well last season but faded after Christmas. The Purple Thunder will have extra motivation this season as their close rivals, the Warringah Waves, are all set for their first season in the Premier League after promotion from the Sydney Triathlon League 1 last season as Champions. The Waves are back where they belong and will look to make up for lost time and as they seek to assert themselves once again as one of the heavyweights of the Sydney triathlon scene.
The Waves were joined by Concord in gaining promotion last season from Sydney Triathlon League 1. The Inner-West based club under the watchful eye of long-term President, Sarah Maguire, will be delighted to have had their hard work from last season rewarded with a chance to establish themselves as one of the premier clubs in Sydney.
Three clubs who battled it out last season towards the foot of the table were Balance Bolt, Macarthur and the Penrith Panthers. All three will be hoping to avoid the drop this season and a strong start will go a long way to achieving this. Watch out for Balance Bolt as they are developing a good core of young athletes to complement their seasoned stars, all primed for big seasons.
With no Duathlons slated for this season, Round 1 won't be until the rescheduled Club Champs event from last season. It will be a double point round in Forster on September 19th which should separate the pack from the off. The Warringah Waves, Hills Red Army and Balmoral Purple Thunder will be favourites for a Round 1 victory with all three clubs being renowned for the Club Champs performances.
This start to the season will also suit many clubs who have tended to miss out during the Duathlon period in previous seasons.
Round 2 is another rescheduled event, with the Wollongong Triathlon set for October 17th. The standard will be the Performance Point earning distance here and will be key to any clubs who missed out at Club Champs in Round 1. This event is anyone's for the taking.
Round 3 is just a week later at the much-loved Nepean Triathlon in Penrith at the Sydney International Regatta Centre. This has been a high point scoring round in previous editions with this seasons event likely to be no different. By the end of Nepean, we will have a very good idea of who are championship contenders and who are relegation candidates. The Penrith Panthers will be hoping to defend their home event as they have done so successfully in previous editions.
Round 4 is Kurnell #1 on November 14th. An event that the Cronulla Sharks have dominated recently. If they have stayed in contention through the first three rounds of the season, this is likely to be the start of their championship push as the Sharks have three events in a row to their liking. If the Hills Red Army head to K1 without a sizable gap back to the Sharks, they will be concerned. The Giants have also feasted at Kurnell in recent seasons.
Round 5 and the first event for 2021 is a return to Kurnell for K2 on January 16th. An event that coincides with the Christmas Holidays makes it a hard one to predict. The Sharks will be favourites, everyone else will be hoping to start 2021 with a bang.
Round 6 is the Richie Walker Aquathlon at Gunnamatta Bay in Cronulla in early February. A terrific atmosphere will greet all travelling clubs and athletes with the Aquathlon State Championship honours also on the line. Another event that will start with the Sharks as favourites but keep an eye on Macarthur at this one.
Round 7 is set for February 21st and the Standard distance State Champs at the Sparke Helmore triathlon in Newcastle. An event that is growing in prestige season after season will make its Interclub debut. It could suit the Northern Suburb clubs so watch out for a Warringah Waves or a Balmoral Purple Thunder event victory.
Round 8 signals the business end of the season. The Big Husky Triathlon festival. One of the great weekends of the year. The Long Course distance is the Performance Points earning race and this again, is a hard event to predict. Will suit clubs with Long Course athletes itching for an early 2021 hit out. Don't sleep on Balance Bolt, this could be their event.
Round 9 and the penultimate round is set for a second trip to Wollongong on April 18th, but this time, the sprint distance will be the Performance Point earning race. With double points available again in the final round, nothing is likely to be decided in Wollongong, however, a slip here and relegation could all but sealed for some clubs whilst others might see their championship aspirations fade.
Round 10. The final round. Club Champs, Forster, 22nd May 2021. Double points up for grabs. We will have a good idea of how the final standings will look but nothing is likely to be guaranteed before this event. Will we the Hills Red Army crowned Forager Sydney Triathlon Premier League Champions again in Forster or will the Cronulla Sharks be back on top, where they so often were in the 90s and early 00s? Will a dark horse have emerged to sweep past the two favourites, Warringah Waves maybe or a re-energised Balance Bolt? Will the Sydney Tri Giants crash back down to earth in ICL03 and have their relegation confirmed at Club Champs? All questions will be answered at Club Champs in 2021.