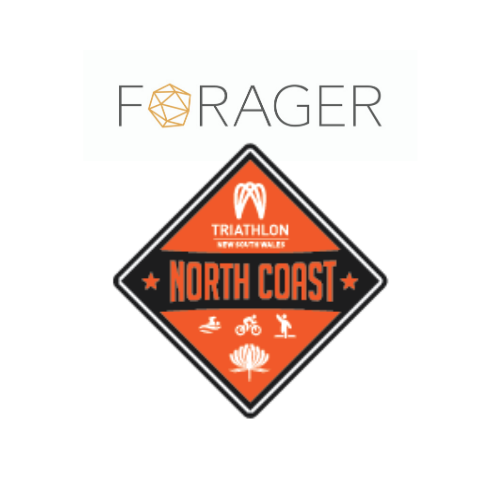 Clarence Valley cap off sensational season by capturing Interclub title
The Clarence Valley Stingrays came into the final two rounds in poll position within the Forager North Coast Triathlon League and with good reason to be confident of Interclub success, but they had stumbled at final hurdles before so nothing was guaranteed.
They were closely hunted by the Hat Head Hammerheads who have impressed mightily over the first two seasons of Interclub on the North Coast taking home second place in ICL01 and a respectable fourth place in ICL02. It wasn't just Hat Head that Clarence Valley had to be wary of as the Byron Breakers were in touching distance of top spot also and were hopeful of holding on to their Interclub Title that they had secured the season prior.
The Coffs Harbour Rockets weren't out of contention either and have a strong history of Club Champs success making it four clubs who has a realistic chance of Interclub glory.
Saturday saw the North Coast Clubs do battle in Forster in Club Champs before the grand finale in Kingscliff the following day.
Saturday – Club Champs 
The North Coast Clubs travelled in good numbers to Forster.
The 'Big 4' of Clarence Valley, Hat Head, Byron and Coffs in particular had a large number of athletes on the start line, and high quality athletes at that.
However, as hard as the Hammerheads, Breakers and Rockets pushed, there was no stopping Clarence Valley.
They won the round and all but secured their maiden Interclub title.
Leading from the front for the Stingrays was the usual trio – Elvery, Adams and Coulton. Clarence Valley ended up not only winning their Club Championships division but also the Interclub round by 6 points which extended their lead at the top of the table, with just Kingscliff the next day as the final round.
They secured 31 points whilst Hat Head scored 25, Byron 24 and Coffs Harbour 23. All solid returns but the outcome that Clarence Valley had dreamt of.
This meant that the Stingrays from Clarence Valley had a 14 point lead as our attention turned to Kingy.
Sunday – Kingscliff 
Ballina Seahorses and Tweed Valley Volcanoes both did not appear on the results at Club Champs, but put additional emphasis on the Kingscliff Triathlon, scoring solidly as Ballina won the round and Tweed Valley finished third.
A great way to end the season for both Clubs.
At the business end of the North Coast competition, Clarence Valley secured the Forager North Coast Triathlon league title for ICL03 even though they didn't pick up any points on the day.
Byron scored 4.5 to finish second in Kingy whilst Hat Head and Coffs both secured 2 points on the day.
All this meant that the Stingrays stayed 12 points clear of Byron and Hat Head who tied for second whilst Coffs finished fourth overall and missed out on a podium finish.
Kim Elvery, club president was over the moon when we advised her of the clubs success "The Interclub Series has definitely bought out the club spirit. No doubt there is a friendly, good spirited competition out there between the North Coast Clubs! Although we have but a small core of members who travel to races we will use this win to encourage more of our members to come and participate in away races.  Our focus will be on increasing female participation next season and there are a few junior potentials in the wings, so expect Clarence Valley to be back next season in force".
Both the Byron Bay Breakers and Hat Head Hammerheads will no doubt be disappointed but also proud of their equal second place – amassing an amazing 115 points which is a huge points haul. In fact, on pure numbers, this end of season tally would have made them join winners in the first series, knocking off the eventual victors Coffs Rockets who won with 114.5 points.
"In just our third season our members are pretty chuffed at throwing the challenge to the older and larger clubs in the region. It seems we are bridesmaids again, but be warned, the hammerheads might be a small club but we are will be ready to dance at our wedding party in a not too distance season. We are looking forward to the 2021/22 season and will come out again all guns blazing, so what this space". Mike Stevenson – Hat Head President.
Mike finished off with a parting jab at Triathlon NSW. "Your pre-season prediction of 7th put plenty of fire in our belly and there was no way our members were going to settle for 7th! Keep underestimating us, and we'll keep proving you wrong!".
Deb Fuller, President of the Breakers also had plenty to say on another wonderful season up the North Coast. "We are thrilled to be the bridesmaid for this season. We had key members out of the comp and the rest had to work hard to battle it out for the final few races. Next season, with a full strength squad, this competition will be ours for the taking!".
What is clear is that the North Coast region has never been stronger, with the podium from the Interclub Club also being the top three clubs from Division 4 of the Club Champs. This shows how engaged, committed and hungry this region is for the sport of triathlon.
Congratulations to Jason Culton, Kim Elvery and all the Clarence Valley Stingrays on their wonderful season 2021 / 2022!