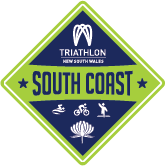 The Illawarra Cannons had their most successful day of the season so far, as they secured a maximum 25 points on offer at the Callala Triathlon to move themselves back into the reckoning in the South Coast Interclub.
After a relatively quiet start to the season, Illawarra were superb to add further intrigue to an already captivating South Coast Interclub competition as they jumped to third overall.
There were victories for Lauren Myers, Ross Schuback, Sile Crowe, Brodie Talbot, Kye Robinson and Ben Bell as the Cannons ran riot. Joshua Engel, Angus Waddell and Alexis Bell added further performance points with second placed finishes as did Skye Bell and Mitchell Blackbourn who both finished third.
Richard Cook, Courtney Thurgar, Peter Roope, Matthew Budgen, Deklan Campbell, Kelera Sigabalavu and Stephen Budgen all added further points to the Cannon's tally.
Although the Cannons were clear victors on the day, they weren't the only club to walk away from Callala with a maximum 25 points. The other, to nobodies' surprise, were the Kiama Coasters who ensured that 2018 didn't end on anything but yet another high.
Arguably the most successful club in NSW this calendar year, the Kiama Coasters maintained their spot on the top of the South Coast leaderboard with yet another emphatic performance. Victories for Amy Loxley, Kevin Goodwin and Club President, Geoff Besnard got the Coasters rolling and they were well supported with podium finishes by Emily Crump, Peter Pike, Cheryl Freeman, Susan Gordon, Mel Huender, Lloyd Egan and Mary Street.
James Pepper, Alan Onions, Rod Sloane and Peter Macphearson also contributing with top ten finishes to give the Coasters a 23-point gap heading into the New Year break.
The Shellharbour Mariners left their best performance of the year until December as they raced to a fine third, also claiming a maximum 25 points to close the gap on several clubs ahead of them on the South Coast leaderboard.
Glenn Daniels, Zara Jobson and Rob Spicer, Megan Casey, Mark Dabros and Tanya Fraser all finishing on the podium to secure much needed points for the Mariners who were starting to lose ground on their rivals before Callala. Tony Fraser, Harry Fraser, Zac Peters, Zara Casey and Anne Biswas gaining further points to confirm that the Mariners will be one to watch during the second half of the season.
The Jervis Bay Dolphins edged out the Highlands Shaggy Cows to finish 3rd, both picking up good points, with the Dolphins claiming  17 and the Highlands, 15.
Colleen Eringa, Liam Hinchcliffe, Thomas Jennings, Kirrilee McManus and Matthews Smith doing their bit for the Shaggy Cows to secure enough points for them to finish 2018 in second place on the leaderboard. A tremendous effort by the club representing the Highlands region.
Jervis Bay slip to fifth overall but are just 6 points behind the Shaggy Cows in second meaning it is all to play for come 2019.
Daniel Wells and Tracy Emerton were victorious for the Dolphins with Nash Hay coming home a fine third. Mark Bagnall, Justin Field, Darryl Callaghan and Joanne Ploszczyniec also secured points for the Dolphins with top ten finishes.
Eurocoast finished last on the day which sees them enter 2019 fourth overall. Still a fantastic achievement to date by the smallest and most southerly club in the competition. Richard Jeffrey won his AG as Stephen Phipps finished 2nd in his to make sure that the Nomads stay firmly in contention.
Report and leaderboard were updated on 21/12/18 on a recount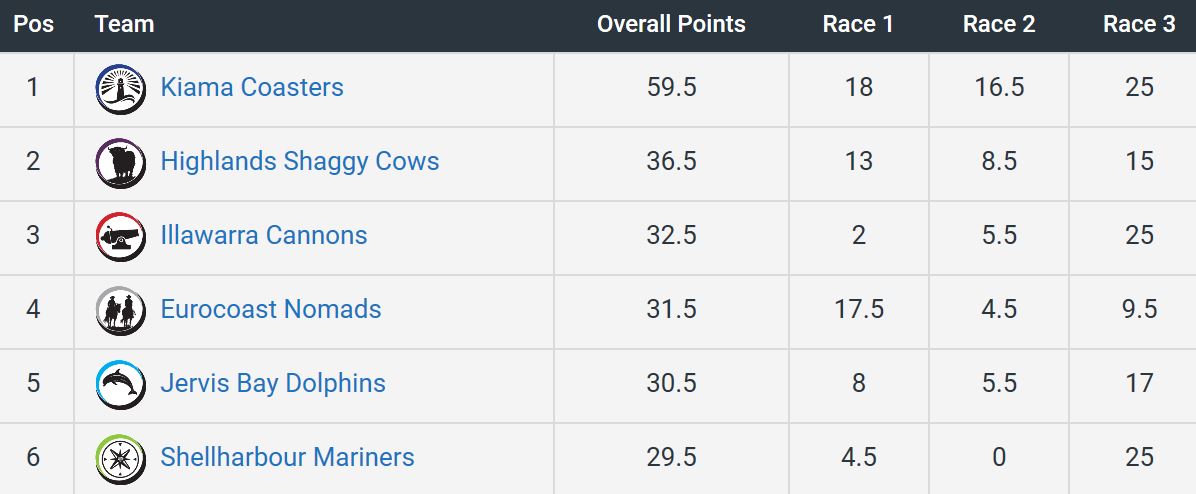 Top 3 questions heading into the Callala Triathlon answered!
Can anyone stop Kiama making it three wins in a row?
They sure can. Step up the Illawarra Cannons, although Kiama will still be thrilled with a maximum 25 points.
2. Who will enter 2019 as Kiama's main contender?
The Highlands Shaggy Cows sit second as we head for 2019 but all of the five chasing clubs are separated by just 10 points. 
3. Can one of the bottom three clubs MAX OUT to jump back into title contention?
Illawarra did, Shellharbour nearly did and Jervis Bay still picked up 15 points. A great day for the three of them.
Looking ahead to Round 4
Round 4 is all set for January 19th and the Nowra Triathlon.
With just four events left, one bad race could see clubs fall out of the running for title honours.
Kiama have breathing room but that could evaporate very quickly.
Full details can be found here 
Callala Triathlon Results
Click here for the South Coast Interclub Series results for the Callala Triathlon