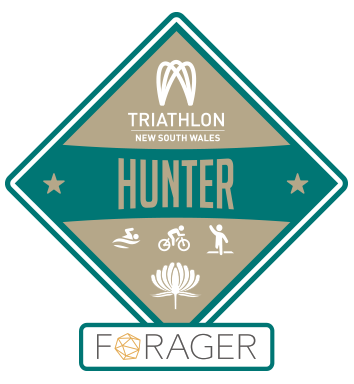 Tomaree hold on to claim Hunter Interclub title
The Forager Hunter Triathlon League wrapped in Forster after a short but successful season. Our Hunter based clubs were all too familiar with the wet conditions Forster served up, after a weather affected calendar across ICL04.
Central Coast Maddoggers came to the party (on and off course) in droves at Club Championships, which saw them make a last-minute dash up the ladder and win the round. Suzanne Chandler capitalised on her performance, picking up four points and a win in her age-group. Brown, Cook, Kirk and Longmuir did their part – picking up vital performance points as they finished with podium positions. The double points dash wasn't enough for the Maddoggers as they finished 2nd, just 5 points short of the title.
The Tomaree Tridents finished second on the day, but their previous performances were enough to see them secure the title for ICL04. Courtney Wevers pocketed key points when she took out her age-group while Chamberlain, Maunder and Russell were right there with her picking up performance points of their own.
Tomaree President Terry Withers was delighted with his club's title winning performance.
"This win is a significant achievement for our small club and shows the breadth of talent across all of our age group categories."
"Our participation rate and performances at the Club Champs season finale was one our best ever, and the Interclub Series win was hard fought and well earned," he tells TNSW.
Newcastle capped off their great season finishing third in Forster and securing third overall – only 11.5 points off the title. Genlot & Young performed well to secure podium finishes while Lucas McBeath did the job to take out his age-group.
Hometown hero's Foster took out their respective division at Club Champs, picking up 26 points to finish 4th in the Hunter on the day and 6th overall for ICL04. Colin Bertram loved the home turf advantage & the conditions, securing 4 points and the individual win.
The Port Macquarie Pelicans impressed with 23 points and a podium finish to Jasper Sumsky. The Pelicans' final round performance sees them finish 5th overall.
They may be small, but the Scone Storms are MIGHTY! Collecting 21 points in Forster to finish 8th overall with their fearless leader Nicky Western clocking some of the fastest times of the day.
ICL05 promises to be another great season in the Hunter League, with many clubs seeing their performances go from strength-to-strength after a covid induced hibernation over recent years. Can Tomaree do the double or will Central Coast be back for redemption? Next season is one not to be missed!
Forager Hunter Triathlon League (ICL04)